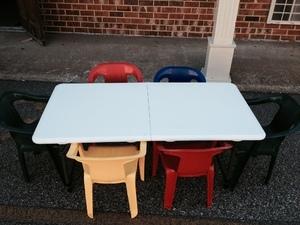 Children's Folding Table - ONLY
This Children's table is 4 Foot and Folds-In-Half. This table has three adjustable height settings.
Chairs rent separately
. Must be picked up from the office if not renting with a bounce house or a package. Tables are made by various manufacturers and may vary slightly in height. Please let a representative know if you plan to group the tables together and need the same exact tables.
Not delivered unless authorized by Just Jump A lot or with a bounce house or Party Package